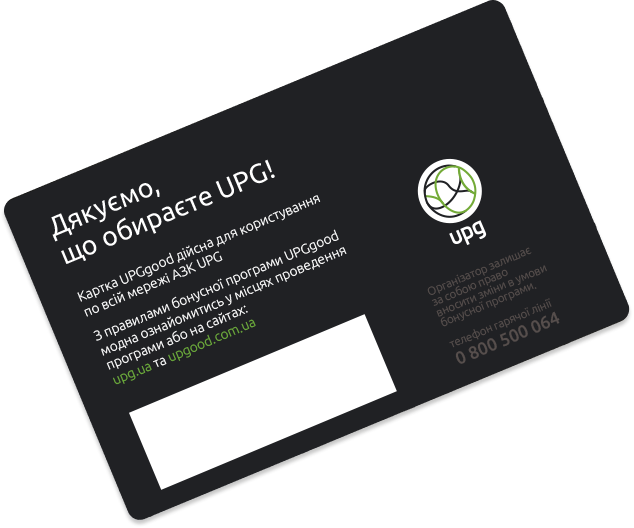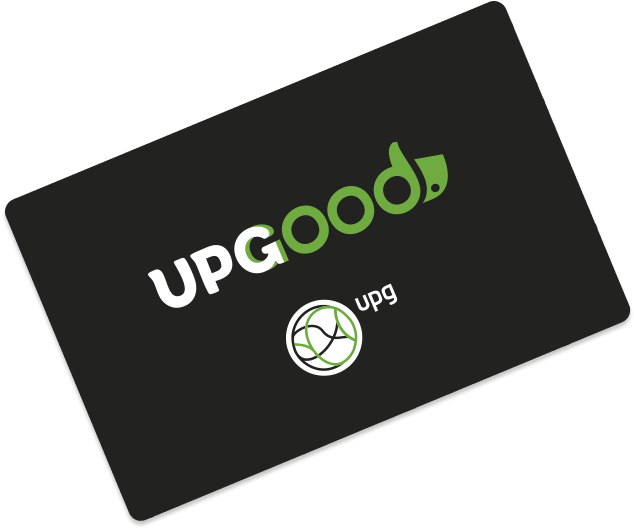 Bonus
program
Dear customers
Become a member of the UPGgood Bonus program and get additional benefits when refueling at the upg filling stations or purchasing goods in their stores.
1.
GET THE UPGGOOD
BONUS CARD
In order to become a member of the Bonus program and get a UPGgood bonus card, you need to make any purchase for any amount at the upg filling station.
2.
REGISTER YOUR UPGGOOD BONUS CARD
This can be done on the website or via the upg mobile application.
Only the registered members can participate in promotions, purchase fuel in the UPGgood online store, control the status of the account, quickly block or restore the card, etc.
3.
ACCUMULATE BONUS POINTS
FOR THE PURCHASE OF FUEL
Each time the number of bonus points before and after the purchase will be indicated on your fiscal receipt.
4.
SPEND THE ACCUMULATED BONUS POINTS
ON FUEL OR GOODS AT THE UPG STORES
The accumulated bonus points are not a means of payment and can not be issued in cash. They can be used only for the purchase of fuel and goods in the upg stores.
The UPGgood bonus program (bonus card) does not apply to tobacco and alcohol products, goods sold by weight and promotional products.
BONUS POINTS
CALCULATION
2% in bonuses
for purchases
in stores and at Vivo Cafe
10 bonus points
(10 kopecks) for each liter
15 bonus points
(15 kopecks) for each liter
20 bonus points
(20 kopecks) for each liter
30 bonus points
(30 kopecks) for each liter
40 bonus points
(40 kopecks) for each liter
Official terms and conditions of UPGood bonus program