From the oil refinery the fuel
is delivered to the oil depots by railway transport
From oil depots
by petrol tankers the
fuel is delivered to our petrol stations
FOR CORPORATE
CLIENTS
From oil depots
by petrol tankers the
fuel is delivered to our petrol stations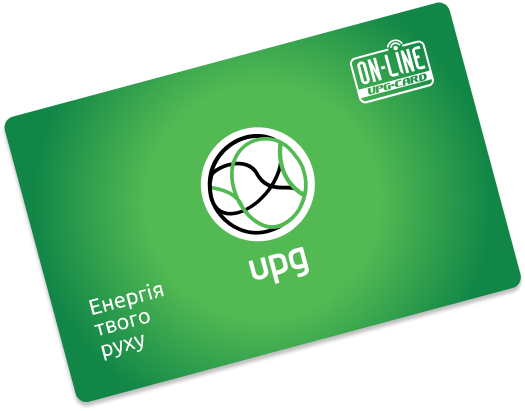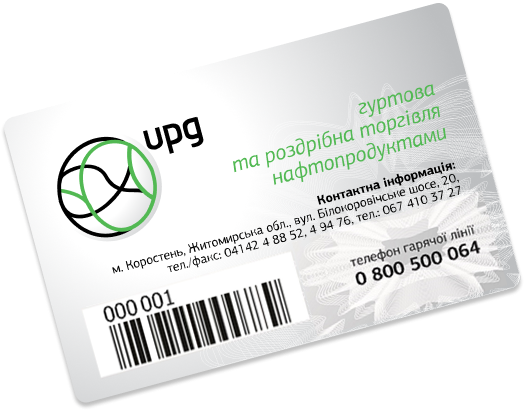 Fuel cards
upg
FUEL CARD — is a convenient solution in the system of electronic payment for fuel.
The main advantage of the upg fuel card is an opportunity to track all the operations with the card online. If a customer has a few cards, he/she can receive a report on all cards simultaneously in any convenient way. From now on the fleet operations are transparent.
Паливні талони
ПАЛИВНІ ТАЛОНИ
— це бланк дозволу, який підтверджує право покупця на отримання попередньо оплаченого пального.
Талонами можуть користуватися як юридичні, так і приватні особи. Придбати талони можна шляхом безготівкового розрахунку в представництві компанії. upg пропонує до продажу талони для придбання пального АИ100, А95Е, А92, дизельного пального та газу.
Основні переваги
використання талонів
Прямі поставки з білоруських НПЗ
Постійний контроль якості палива
Зручне розташування власних нафтобаз
Оперативність у виконанні замовлень
Автоматична система наливу нафтопродуктів
Можливість самовивозу