Coffee at a Gas Station Is a Tradition You Love
03.12.2021
Drivers have their own traditions, for example a cup of delicious and fragrant coffee on their way. This is both meditation and an additional boost of energy. You allow yourself this pleasant habit of taking a break to reboot, warming your palms with your favorite drink, because life consists of such warm moments.
The culture of coffee consumption in our country is growing rapidly. A growing number of Ukrainians prefer high-quality and deliciously prepared hot drinks. Every day, thousands of Ukrainians come to have coffee at UPG gas stations. Most often, our customers choose classic Americano and Americano with milk.
«Coffee is not just a drink; it is a mood that we create for ourselves. That is why we make a lot of effort to ensure that UPG drinks are perfect, just like the client expects them to be. Someone starts their journey with a cup of coffee, setting themselves up for a long way, for someone it is a pause to rest and reboot. But a cup of coffee is always an opportunity to recharge your inner "energizer". Realizing this, the UPG gas station chain pays maximum attention to the service it provides to its customers, and especially to the selection and preparation of coffee», – says Oksana Kovalchuk, Director of the Retail Department.
The secret of delicious hot drinks from UPG is a blend of coffee that was specially developed for the chain and adapted to the taste preferences of Ukrainians. This is a mixture of selected grains of highland Arabica (80%), grown on the best plantations in Brazil and South America. The heart of the blend is Santos Arabica, the most popular among lovers of true classics. The company chooses light roasted Santos Arabica, because, according to a survey, our customers prefer it. This Arabica gives coffee its pronounced, thick and rich taste with a barely perceptible sourness and spicy aftertaste. The mixture is supplemented with Robusta grains (20%), which give the drink its firmness, and thanks to the unique growing conditions, also softness that is quite unusual for this coffee blend.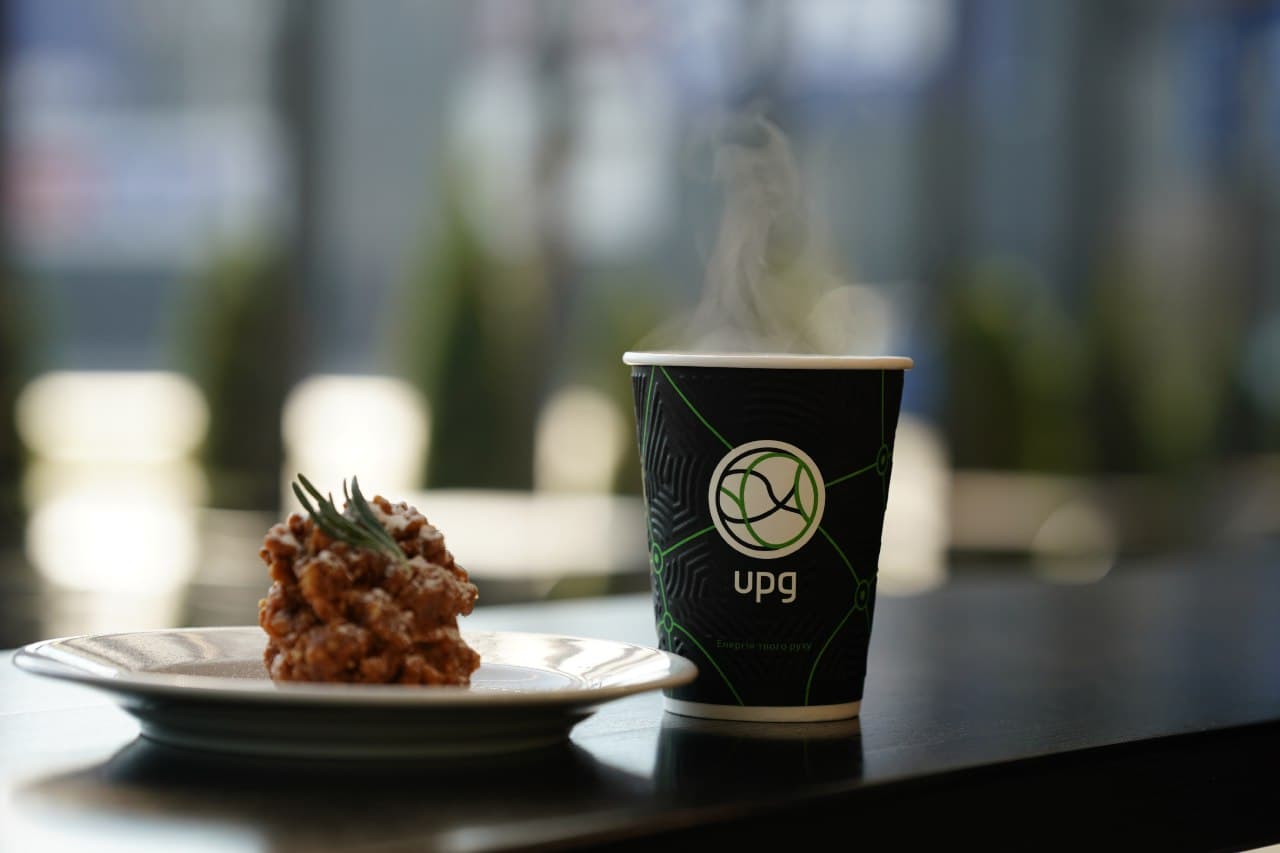 The blend is produced, roasted, and packaged by a reliable manufacturer at one of their most high-tech factories in Germany. Fast delivery is especially controlled by the company since the freshness of coffee roasting is just as important as its constant quality. Therefore, the delivery of coffee to UPG gas stations does not exceed 14 days.
All drinks from the UPG gas station coffee card are prepared according to the classic world standard. Milk drinks are based on properly brewed espresso and perfectly emulsified milk. Cappuccino and latte have an exquisite creamy taste and an even glossy foam, that makes coffee lovers adore these drinks. This perfect consistency and quality of whipped milk are achieved thanks to the most modern innovative systems of Swiss coffee machines.
Everything from stylish cups to comfortable coffee corners for preparing your favorite drinks affects the mood of customers. At UPG gas stations, everything is thought out to the smallest detail, because this is where the real service begins.