Restaurants of the UPG Gas Station Chain: Dishes and Atmosphere That Energize
03.12.2021
Everyone needs energy to move forward non-stop. UPG takes care not only of cars, filling them with high-quality fuel. To make sure that drivers have enough energy on the road, new VIVO cafe restaurants have been opened at the new gas stations of the chain. Therefore, when traveling with your family or being in a hurry on business, you can eat here without deviating from the route.
VIVO cafe is also about the atmosphere. This is the place where you can relax from the hustle of the city or constant concentration on the road. These are the cozy moments with a cup of fragrant coffee in your hands which you sometimes expect, counting kilometers just to enjoy them. Over 400,000 drinks were sold in the UPG chain during just one September day.
Skillfully prepared dishes from the freshest ingredients are the basis of a professional kitchen, but for an unforgettable experience that will keep you coming back, you always need something more. The concept of VIVO cafe is built to make everyone feel like a special guest. The restaurant's culinary gurus know everything about the gastronomic preferences of Ukrainians and guess their mood. In the restaurant menu, everyone can find a dish to their liking, which will surely become their favorite.
«It's no secret that modern Ukrainian cuisine is a synthesis of the culinary heritage of other countries and its own traditional dishes. We approached the menu in a philosophical way: we took into account the rhythms and ways of life, the characters and moods of Ukrainians. Obviously, this is the gastronomic secret of VIVO cafe's success. As is customary among Ukrainians, the menu has everything you desire: from the dishes of our national cuisine loved since childhood to the bestseller from America – a burger», says Viktoria Rudenko, Director of restaurants of the UPG gas station chain.
Having stopped at VIVO cafe, you can either have a quick snack by choosing dishes from the express menu, or have a leisurely tasty meal, enjoying original dishes prepared by a team of professional chefs.
Lovers of Italian cuisine choose a salad with prosciutto, Caesar salad, or carbonara. For those who appreciate the traditional cuisine we have borscht with bacon and rye bread, potato pancakes with bacon and "Panski" dumplings. At the restaurant you can taste one of the symbols of Austria, that is Viennese schnitzel with a salad of pickled cucumbers and potatoes. Looking for something special? Mexican burritos, French hot dogs with a potato bun with sesame seeds, European cottage cheese pancakes with jam and sour cream will definitely make your day.
Burger remains one of the most popular items on the menu, and VIVO cafe offers 10 varieties of it. During one autumn day, the restaurant chain sells about 7,500 of this popular dish. Customers love our burgers for their lush and aromatic brioche bun and tender, juicy high-quality beef patty. They are prepared directly by each cafe separately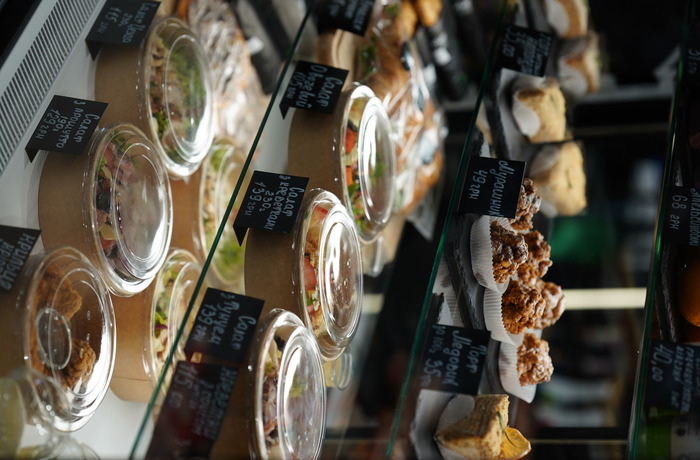 Desserts from VIVO cafe are a real magnet for visitors. They are like a time machine that instantly brings you back to your childhood with all its flavors and cozy moments. All desserts are also made by each cafe separately according to a single recipe.
Visiting restaurants of the UPG gas station chain, visitors should not worry about their safety. The UPG team takes care of it every day, starting from the design of the kitchen and other technological premises. Each cafe has implemented HACCP, which is a systematic approach to ensuring the quality and safety of products in a restaurant. Compliance with all food preparation standards is also guaranteed thanks to round-the-clock video surveillance and regular visits by brand chefs to each cafe.
Taking care of the health of its customers, UPG takes measures to minimize the risks of the spread of the coronavirus pandemic. The employees of the gas stations wear masks, the surfaces are regularly disinfected, and disinfectants are placed at all points of contact and stopping of the visitors of the gas station.