Ukrainian radio presenters have tasted ice U and shared with us why it is more than just ice cream!
17.07.2023
The equator of summer is the time to draw energy from the sun, enjoy its colors and aromas. And to make every trip even more comfortable, we have created ice U – ice cream of our own production. On hot days, this sweet specialty gives double pleasure: the delightful taste and the much-desired coolness. This is the number one dessert for the whole family, and thousands of Ukrainians who visited VIVO café to taste this novelty have already made sure of this.
Ukrainian radio presenters also tried our ice cream and shared their impressions on social media. We would like to share the feedback of journalists with you, because it really melts our 💚.
"… Milky, moderately sweet, with delicate sourness, fresh, as if still mooing. Especially the one with passion fruit and the one in the cone. Also, the one with caramel, and the one with peanuts. And with chocolate. And with strawberries. And, to put it shortly, all of it…
UPG gas stations themselves are an aesthetic pleasure. It's cool that our folks managed to do all this – it's functional, and beautiful, and tasty, and friendly. I am happy as a woman, and as a mother, and as a driver, and as a patriot. Cool ice cream, cool UPG, cool Ukraine!" wrote the host of "Autoradio" Kateryna Solovyova on Facebook.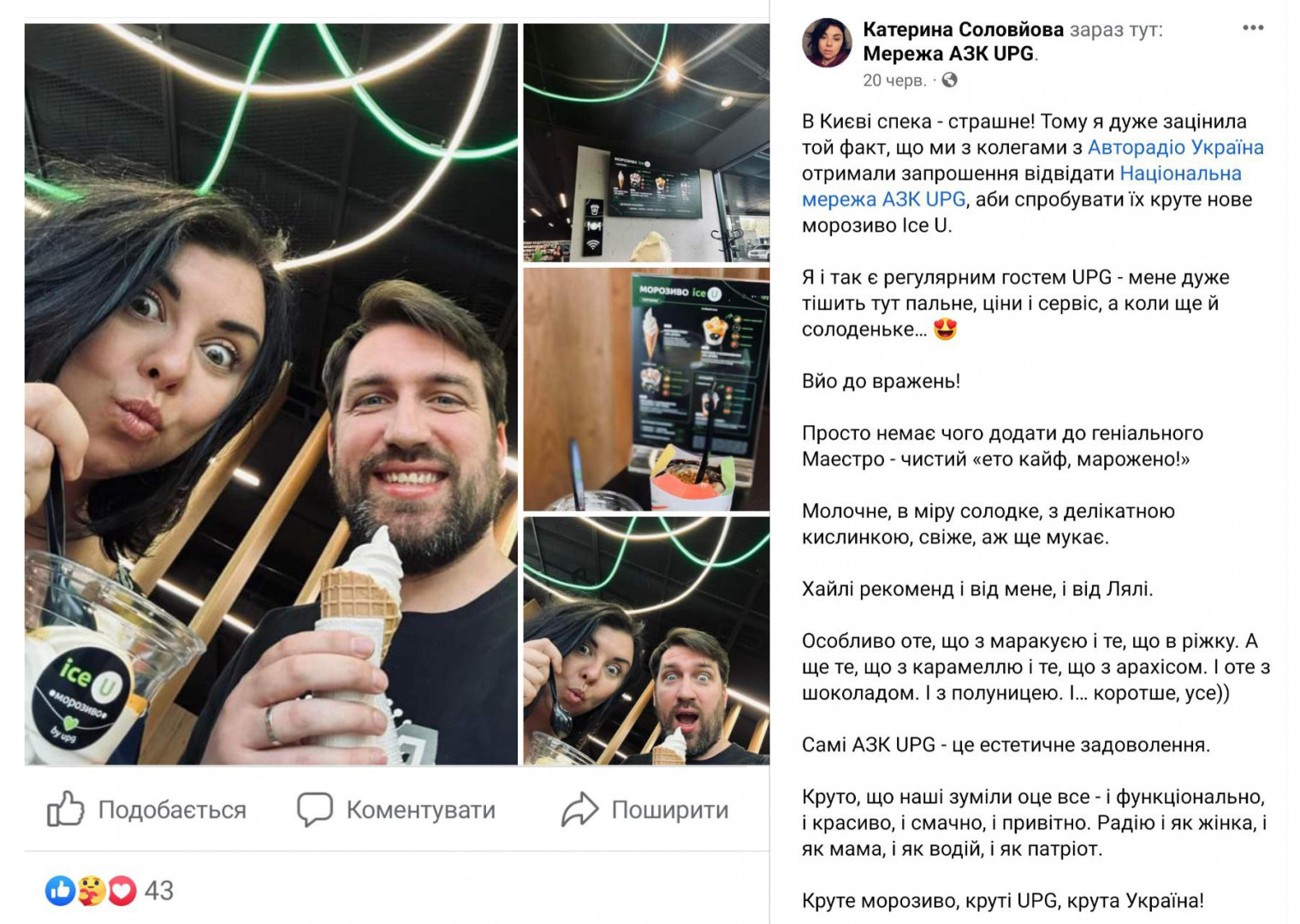 Dmytro Vynohorodskyi from "Radio Pyatnytsia" also tasted iceU.
"…The ice cream in the cone has a wonderful texture, consistency, rich taste, and the cone itself is filled to the very tip! A serving of ice cream with chocolate topping and crunchy balls is really filling. Despite being already full, I could resist neither the temptation nor the taste, so I gobbled down the second ice cream, which I do not regret in any way.
…it's cool that gas station chains in the fight for the customer reach new heights not only in the quality of fuel and additional services, but also with restaurant-level food and desserts! And UPG is pleasantly surprising at this," the journalist wrote.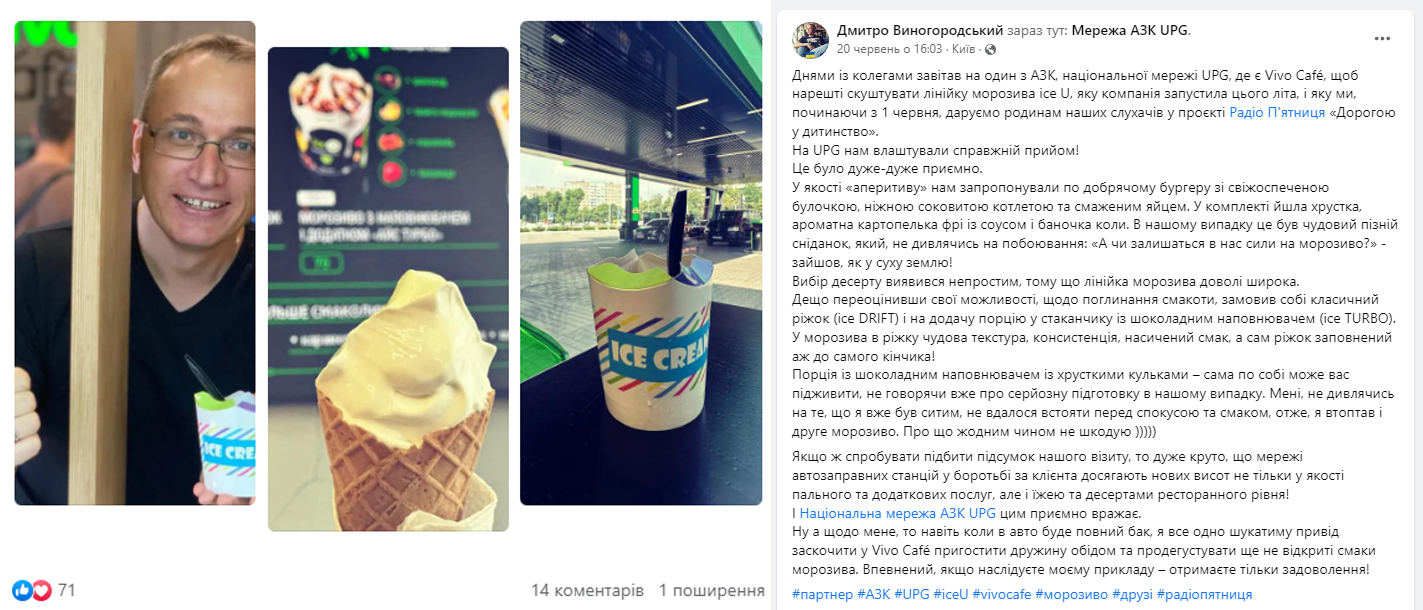 Lux FM radio host Slava Dyomin, who came to UPG to refuel his car, tasted our ice cream with his son, of which he told on his Instagram.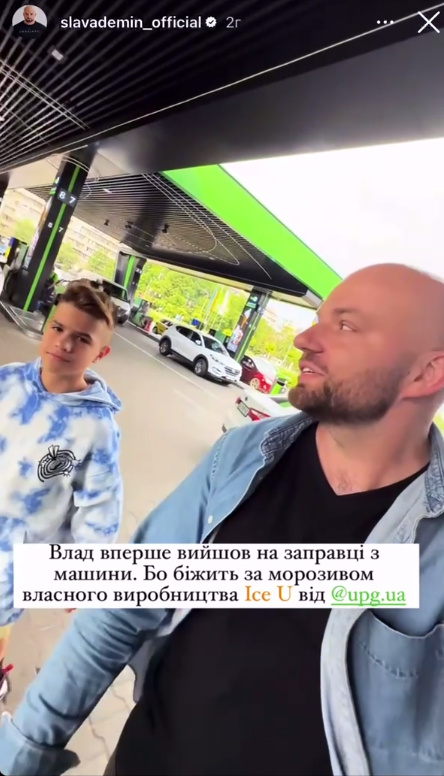 If you haven't tried ice U yet, it's high time to do it. While refueling your car with high-quality European fuel, relax on our summer terrace, enjoying your favorite ice cream in a crispy cone, or take a cool dessert with you.
We prepare this dessert exclusively from natural ingredients. It is based on a selected milk mixture and nothing else. We cook ice cream on modern professional equipment, which is why its texture is creamy and tender, and the taste is balanced. And for everyone to be able to find their favorite taste, we offer a few options:
Ice DRIFT, a classic vanilla ice cream in a crispy waffle cone. Ice TURBO and Ice DRIVE allow you to make the flavor accent yourself by choosing your favorite filling (caramel, chocolate, strawberry, mango-and-passion fruit). The latter is covered with caramelized peanuts, which perfectly complement this cool dessert.
Each serving contains the taste of summer with its bright colors and aromas, the refreshing sourness of tropical fruit and the juiciness of ripe berries. So, ice U is about your good mood and fun!
See you at VIVO café!