UPG Has Opened a New Modern Gas Station in the Kyiv Region
08.10.2022
For over 7 months, Ukraine has been courageously defending its right to freedom and bringing the fight to the enemy with dignity. A full-scale war and a terrorist country destroyed many plans of Ukrainians, but this did not scare us. On the contrary, it tempered us and increased our strength in the fight for victory. The All-Ukrainian gas station chain UPG continues to develop, plan, and build the future of our strong state. We are happy to announce that today, on September 23, the new 78th filling station of the chain has opened its doors.
This is one more convenient location for a comfortable stop for drivers, where you can quickly refuel with all types of high-quality European fuel of the Euro-5 standard, such as A-95, branded upg100 and upg95 gasolines, diesel fuel, and LPG at the most reasonable prices
At our gas station, drivers can not only refuel with high-quality fuel, but also find everything they need on the road, because we have our own store with a wide assortment of food products, automotive goods, and even patriotic merch. By the way, the latter was developed by our specialists with special care and love for our Motherland, which is why it was named "З Україною в серденьку – With Ukraine in the Heart 💚".
For those who stopped to refresh themselves on the way, chefs at VIVO café offer freshly prepared dishes and drinks for every taste. By the way, now at our restaurants you can enjoy juicy chebureks and craft dumplings. You can make a leisurely stop here for a fragrant coffee and order cookies with condensed milk, whose taste will take you back to your childhood.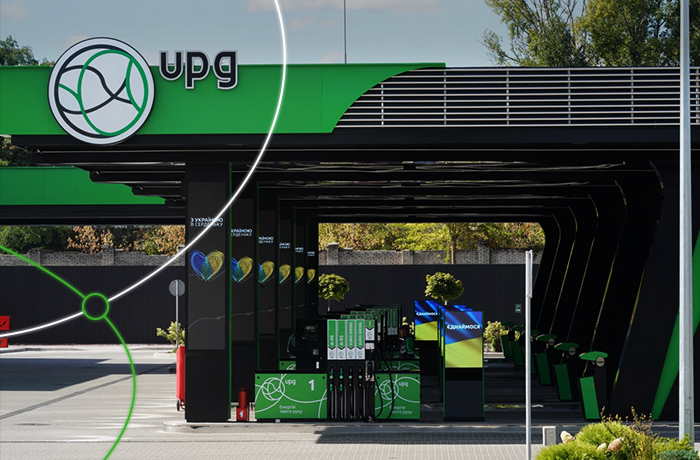 The UPG gas station chain cares about each visitor, so our stations have restrooms equipped for handicapped people, children's washbasins, changing tables, as well as highchairs for convenient feeding of babies.
We would like to remind you that in summer the operation of the UPGgood bonus program was restored, so now you can instantly receive bonuses after each purchase and spend them on fuel or various goods in the chain.
In addition, every driver can save 40 kopecks per each liter of gasoline or diesel by purchasing fuel online via "Skryn'ka".
Refuel your beloved car with high-quality fuel at affordable prices at UPG, enjoy delicious meals at VIVO café, savor hot fragrant coffee, and set off on your happy trip.
We are waiting for you at the address: Kyiv region, Brovarsky district, village Velyka Dymerka, highway M-01 Kyiv-Chernihiv-Novi-Yarylovichi (on Gomel) km 42+630 (right).